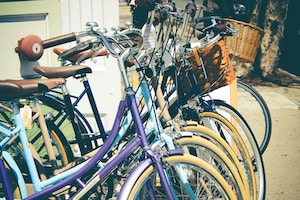 OUTDOOR AIR QUALITY PRODUCTS
The fossil fuel-based transportation methods and products we use have a big impact on our ability to live sustainable lives. Check out these alternative transportation options and other outdoor air quality products you can get behind on your road to reducing outdoor air pollution through conscious consumerism.
This site contains affiliate links for your convenience. The goal is to first provide links to eco-friendly, ethical, and sustainable brands, and then to those same type brands that use Amazon (i.e., Climate Pledge Friendly Certification), if possible. Therefore, you may see multiple links for one option. Should you make a purchase through any link, I will receive a small commission at no additional cost to you. See my Disclaimers & Disclosures and Privacy Policy for more information.
---
Like this? Share it with others!
---
Explore the Outdoor Air Quality Product Directory by category. If you don't find anything you like at this point, keep coming back. The directory will be continually updated.
Taking the Guesswork Out of Outdoor Air Quality Products
Thank you for visiting the Outdoor Air Quality portion of being a Conscious Consumer.
If you have been reading up on why reducing outdoor air pollution is important on my Reduce Outdoor Air Pollution page, and you wish to learn what products or services you can use to do your part to reduce air pollution, then congratulations!
You're making strides to reducing your eco and carbon footprints and towards living a more sustainable lifestyle.
---
Outdoor Air Product 3rd Party Certifiers
More Certifiers to Come
Here are hard-working, U.S. and international 3rd party product certifying organizations that take a lot of the sustainable-buying guesswork out of your purchasing. Look for their labels when you make your next purchase.
Click on each logo to see their certified product listings that hold with their mission to make the planet a sustainable place to live.
The EPA's SmartWay program "certifies the 20% lowest-emitting passenger vehicles each model year, based on greenhouse gas and smog ratings". Click the logo to find a certified, low-emission vehicle, or read about the EPA's Green Vehicle Guide.
Move over C and S Corps… Certified B Corporations (B Corps) are redefining how business is done. "Certified B Corporations are businesses that meet the highest standards of verified social and environmental performance, public transparency, and legal accountability to balance profit and purpose." If you see this label on a brand, that's a brand you can get behind as a conscious consumer. Full stop. Read more about B Corps and what companies must do to get B Corp certified. Search their directory to see who is a certified B Corp.
---
– OUTDOOR AIR QUALITY POSTS –
You ever hear people say you should warm up your car in the winter before driving it, or that stopping and starting your car uses…
Air pollution is something we can all live without. Yet, many do not know how they help reduce air pollution. We all can reduce air…
---
---
---
Like this? Share it with others!
---